Renaud Louis-Servais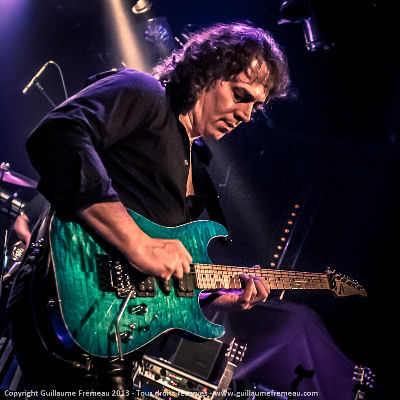 Renaud Louis-Servais was born in France in 1972. His father was a classical guitar player, and Renaud started playing the guitar at the age of 8. During the next five years he joined his first hard-rock band, SENTINELLE, then several pop rock cover band with which he toured the suburbs of Paris. Attracted by virtuosity and working exclusively "by the ear" at that period, he enhanced his guitar expertise mostly by transcribing his favorite guitar players' licks — which included Joe Satriani, Steve Vai, Steve Lukather, among others.

As he grew older his musical influences became many and varied (jazz, progressive rock, jazz-rock, funk, Latin). Yes, Weather Report and the Pat Metheny Group were three major discoveries, and listening to such jazz guitarists as Pat Martino, and "fusion" guitarists like John Mc Laughlin, Scott Henderson, Frank Gambale, Allan Holdsworth and Greg Howe fed his own guitar-playing style construction.

The first album ILUNA (2011), mirrored what had always been driving him musically: the pleasure to move freely between 'metal', progressive music, jazz and rock, with a lot of attention paid to composition and sound quality. It was entirely recorded and mixed by Steve Prestage (Gino Vannelli, Gary Moore, Peter Gabriel, Marc Bolan). Three tracks from that album reached semi-final stages at the prestigious International Songwriting Competition (ISC).

Fond of musical pedagogy, Renaud Louis-Servais has also taught the guitar to more than 400 students in 20 years. In 2013, he taught one of his young students, Tina S (13 y.o.), the Eddie Van Halen "Eruption" solo — and Tina's video quickly became a huge hit, reaching more than 7 million views within a few weeks.

He made also several videos demonstrating guitar solo covers on his YouTube channel (more than 140.000 views). He is usually asked by music schools and festivals to give some guitar master-classes in numerous domains (improvisation, harmony, musical theory), and more and more often asked by web guitar sites like Guitare Live (France) or RiffState (USA) to film educational guitar videos for them. He is now working on the second RLSG album, coming end 2014.

Renaud endorses Tom Anderson Guitarworks and Two Notes Audio Engineering.
YouTube channel : http://www.youtube.com/renaudls